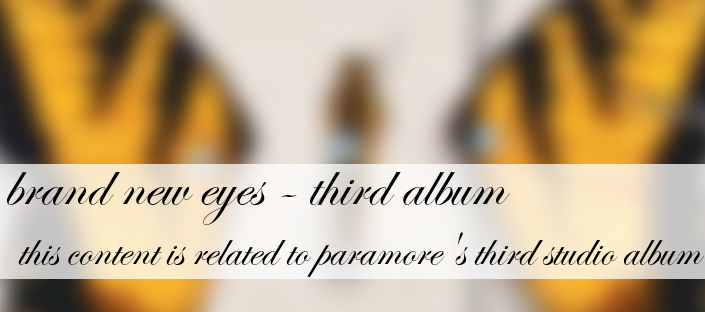 All I Wanted is a song written by Taylor York and Hayley Williams, & performed by Paramore. This song is apart of the band's 3rd album, Brand New Eyes. This song has an official audio version to it below but it doesn't have an official music video version to it.
The song is track number 11 and is the last song on the album (apart from the bonus track Decode on some releases and acoustic versions of some of the tracks on others). The song is available on iTunes for download, along with many other songs from the same album.
All credit goes to A-Z Lyrics for the lyrics below (http://www.azlyrics.com/lyrics/paramore/alliwanted.html).
Think of me when you're out
When you're out there
I'll beg you nice from my knees
And when the world treats you way too fairly
Well it's a shame I'm a dream

All I wanted was you
All I wanted was you

I think I'll pace my apartment a few times
And fall asleep on the couch
Wake up early, the black and white re-runs
That escape from my mouth, oh

All I wanted was you
All I wanted was you
All I wanted was you
All I wanted was you

I could follow you to the beginning
Just to relive the start
Maybe then we'd remember to slow down
At all of our favorite parts

All I wanted was you

All I wanted was you
All I wanted was you
All I wanted was you
All I wanted was you
| | Paramore |
| --- | --- |
| Label | Fueled By Ramen |
| Albums | All We Know is Falling, Riot!, brand new eyes, Paramore, After Laughter |
| Live Albums | Live in the UK 2008, The Final Riot! |
| Other Albums | The B Sides |
| Singles | |
| Other Charted Songs & Singles | In the Mourning, Renegade, Grow Up, Anklebiters, Hate to See Your Heart Break, Forgiveness, 26, Pool |
| Other Songs (Song List) | Other Songs |
| Extended Plays | The Summer Tic EP, 2010 Summer Tour EP, The Only Exception EP, The Holiday Sessions |
| Boxsets | Singles Club EP |
| Related Pages | Teenagers, Airplanes, Stay the Night |
Ad blocker interference detected!
Wikia is a free-to-use site that makes money from advertising. We have a modified experience for viewers using ad blockers

Wikia is not accessible if you've made further modifications. Remove the custom ad blocker rule(s) and the page will load as expected.