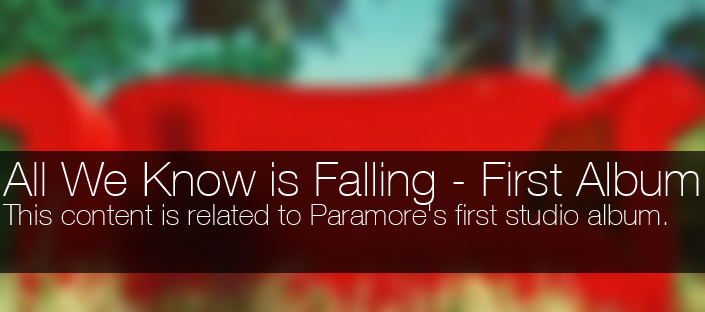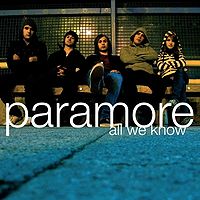 "All We Know" is the third and final single from
Paramore
's first studio album
All We Know is Falling
, as it was also the first song track in the album. It was released on February 26, 2007 in the US, and on December 16th, 2006 in the UK.
The song's lyrics are based on both the departure of the band's bass player Jeremy Davis who later returned to the band, and the divorce of lead singer Hayley Williams's parents, as is most of the album.
Very few reviews exist for "All We Know" but the Digital Spy website gave it a rather positive review by stating: "The song slides from hard-rocking, crashing guitars and emotive, angry vocals to a much softer sound to start off the last third of the song, and Williams' vocals really do stand out on 'All We Know', her voice almost trilling as she hits the high notes and yelping out that "it takes some time to let you go" before Paramore take us to a much gentler interlude, swiftly followed by a return to this group's fast-paced sound." The final rating for the single was 3 out of 5 stars.
Music Video
A live video is available, filmed at one of the band's concerts. The video is a clip show of Paramore performing on their own, at a concert and of various images of them running around town and backstage at their concert. It is a similar music video to the U.K. released single "
Hallelujah
" from their second album
Riot!
.
Lyrics
We tried so hard to understand, but we can't
We held the world out in our hands and you ran away
It takes some time to let you go and it shows

'Cause all we know is falling, it falls
Remember how 'cause I know
That we won't forget at all

Now we can follow you back home but we won't
Is this what you had waited for? Just to be alone?
It takes some time to let you go and it shows

'Cause all we know is falling, it falls
Remember how 'cause I know
That we won't forget at all

You never, you never said
This wasn't what you wanted
Was it, was it?

This isn't what you wanted
This isn't what you wanted

'Cause all we know is falling, it falls
Remember how 'cause I know
That we won't forget at all
Paramore
Label
Fueled By Ramen
Albums
All We Know is Falling, Riot!, brand new eyes, Paramore, After Laughter
Live Albums
Live in the UK 2008, The Final Riot!
Other Albums
The B Sides
Singles

AWNIF: Pressure, Emergency, All We Know,

R: Misery Business, Hallelujah, Crushcrushcrush, That's What You Get, Decode,

BNE: Ignorance, Brick By Boring Brick, The Only Exception, Careful, Playing God,

P: Monster, Now, Still Into You, Daydreaming, Ain't It Fun

AL: Hard Times, Told You So, Fake Happy

Other Charted Songs & Singles
In the Mourning, Renegade, Grow Up, Anklebiters, Hate to See Your Heart Break, Forgiveness, 26, Pool

Other Songs (Song List)

Other Songs

Extended Plays

The Summer Tic EP, 2010 Summer Tour EP, The Only Exception EP, The Holiday Sessions

Boxsets

Singles Club EP
Related Pages
Teenagers, Airplanes, Stay the Night