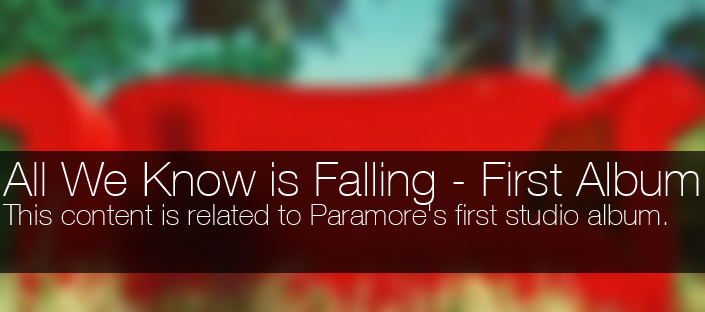 All We Know Is Falling is Paramore's debut album released July 6, 2005. The album reached #8 on the UK Rock Chart. In the USA, it reached #30 on the Billboard's Heatseekers Chart but failed to chart on the Billboard 200 .As of April 2009, the album managed to sell 405,010 copies in the United States, though prior to Riot! being released the album had only sold 50,000 copies. In September 2005, a special Japanese release containing the previously unreleased "Oh, Star" was made available for purchase. On May 26, 2009, a deluxe edition of the album was released exclusively on iTunes with 2 live tracks and 3 music videos. On October 20, 2009 the album went gold. The album spawned three singles in total: "Pressure," "Emergency" & "All We Know"
Album Cover
As stated by singer Hayley Williams, the shadow on the sofa on the album art is meant to represent Jeremy Davis leaving the band. Davis temporarily left the band shortly after arriving in Orlando, Florida to record the album. Davis stated that he immediately regretted leaving and was overjoyed when the band asked him back shortly after the album's release. His departure had a large impact on the band, inspiring the song "All We Know," and thus the title of the album, "All We Know Is Falling." During this departure of Davis, John Hembree took over as bass guitarist while Jason Bynum was the rhythm guitarist.
Track listing
iTunes Deluxe Edition
#
Title
Length
11.
"Pressure" (live) (originally released on The Final Riot!)
3:01
12.
"Here We Go Again" (live) (originally released on Riot FYE Release)
3:24
13.
"Pressure" (music video)
3:06
14.
"Emergency" (music video)
3:58
15.
"All We Know" (music video)
Releases
Singles
Chart Performance
Chart (2005)
Peak

position

Billboard Comprehensive Albums
2
Billboard Top Pop Catalog
13
Billboard Top Heatseekers
3
Chart (2009)
Peak

position

UK Rock Albums Chart
8
Chart (2010)
Peak

position

UK Albums Chart
5
Notes
As the bassist, Jeremy Davis was absent during the recording of the album, lead guitarist, Josh Farro played both bass and lead guitar.
| | Paramore |
| --- | --- |
| Label | Fueled By Ramen |
| Albums | All We Know is Falling, Riot!, brand new eyes, Paramore, After Laughter |
| Live Albums | Live in the UK 2008, The Final Riot! |
| Other Albums | The B Sides |
| Singles | |
| Other Charted Songs & Singles | In the Mourning, Renegade, Grow Up, Anklebiters, Hate to See Your Heart Break, Forgiveness, 26, Pool |
| Other Songs (Song List) | Other Songs |
| Extended Plays | The Summer Tic EP, 2010 Summer Tour EP, The Only Exception EP, The Holiday Sessions |
| Boxsets | Singles Club EP |
| Related Pages | Teenagers, Airplanes, Stay the Night |