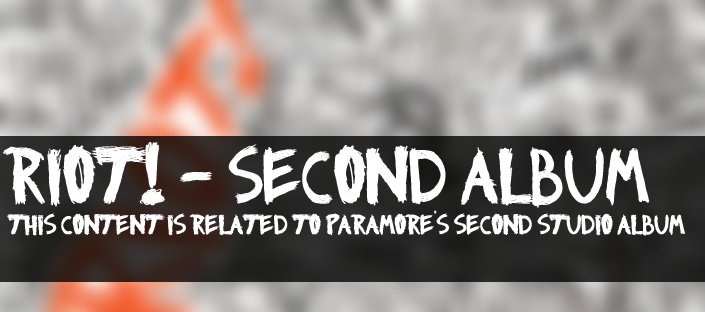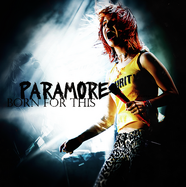 Born for This
is a track by
Paramore
, released on their second studio album,
Riot!
, as the eleventh track of the album.
Information
Edit
Born for This was the intro to every concert in The Final Riot! tour. It is originally from the Riot! album. Fans won a contest to sing and record parts of the vocals and spend a day with the band.
Oh no I just keep on falling
(Back to the same old…)
Where's hope when misery comes crawling?
(Oh my way, Ay…)
With your faith you'll trigger a landslide
(victory)
Kill off this common sense of mind

It takes acquired minds to taste, to taste, to taste this wine
You can't down it with your eyes
So we don't need the headlines
We don't need the headlines
We just want…

Everybody sing like it's the last song you will ever sing
Tell me, tell me, do you feel the pressure now?
Everybody live like it's the last day you will ever see
Tell me, tell me, do you feel the pressure now?

Right now you're the only reason
(I'm not letting go, oh…)
Time out if everyone's worth pleasing
(Well ha-ha!)
You'll trigger a landslide
(Victory)
to kill off their finite state of mind

It takes acquired minds to taste, to taste, to taste this wine
You can't down it with your eyes
So we don't need the headlines
No, we don't want your headlines
We just want…

Everybody sing like it's the last song you will ever sing
Tell me, tell me, do you feel the pressure now?
Everybody live like it's the last day you will ever see
Tell me, tell me, do you feel the pressure now?

Everybody sing like it's the last song you will ever sing
Tell me, tell me, do you feel the pressure?
[repeat x2]

Alright, so you think you're ready?
Ok, then you say this with me
Go!
We were born for this
We were born for this
Alright, so you think you're ready?
OK, then you say this with me
Go!
We were born for this
We were born for this
We were born for this
We were born for this

We were born for
We were born for

Everybody sing like it's the last song you will ever sing
Tell me, tell me, can you feel the pressure?
Everybody live like it's the last day you will ever see
Tell me, tell me, can you feel the pressure now?

Everybody sing like it's the last song you will ever sing
Tell me, tell me, can you feel the pressure?
Tell me, tell me, can you feel the pressure?

We were born for this
We were born for this
We were born for this
| | Paramore |
| --- | --- |
| Label | Fueled By Ramen |
| Albums | All We Know is Falling, Riot!, brand new eyes, Paramore, After Laughter |
| Live Albums | Live in the UK 2008, The Final Riot! |
| Other Albums | The B Sides |
| Singles | |
| Other Charted Songs & Singles | In the Mourning, Renegade, Grow Up, Anklebiters, Hate to See Your Heart Break, Forgiveness, 26, Pool |
| Other Songs (Song List) | Other Songs |
| Extended Plays | The Summer Tic EP, 2010 Summer Tour EP, The Only Exception EP, The Holiday Sessions |
| Boxsets | Singles Club EP |
| Related Pages | Teenagers, Airplanes, Stay the Night |