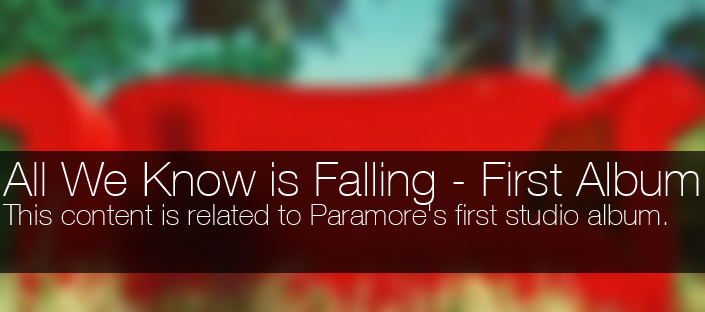 '
Brighter
' is a song created with
Hayley Williams
, and played by
Paramore
. This song currently does not have an official music video or audio video to it. This song is the fourth track of, and apart of Paramore's debut album,
All We Know is Falling.
As mentioned, the song does not have a music video or official audio track. The video below is an unofficial audio video of Brighter. This song was never charted, and is available on iTunes, along with other songs in the same album.
All credits go to A-Z Lyrics for the lyrics given below: (http://www.azlyrics.com/lyrics/paramore/brighter.html).
So this is how it goes
Well I, I would have never known
And if it ends today
Well I'll still say that you shine brighter than anyone
Now I think we're taking this too far
Don't you know that it's not this hard?
Well it's not this hard
But if you take what's yours and I take mine
Must we go there?
Please not this time. No, not this time.
Well this is not your fault
But if I'm without you
Then I will feel so small
And if you have to go
Well always know that you shine brighter than anyone does.
Now I think we're taking this too far
Don't you know that it's not this hard?
Well it's not this hard
But if you take what's yours and I take mine
Must we go there?
Please not this time. No, not this time.
If you run away now,
Will you come back around?
And if you ran away,
I'd still wave goodbye
Watching you shine bright.
Now I think we're taking this too far
Don't you know that it's not this hard?
Well it's not this hard
But if you take what's yours and I take mine
Must we go there?
Please not this time. No, not this time.
I'll wave goodbye (You shine bright)
Watching you shine bright (You shine bright)
I'll wave goodbye tonight (You shine bright)
| | Paramore |
| --- | --- |
| Label | Fueled By Ramen |
| Albums | All We Know is Falling, Riot!, brand new eyes, Paramore, After Laughter |
| Live Albums | Live in the UK 2008, The Final Riot! |
| Other Albums | The B Sides |
| Singles | |
| Other Charted Songs & Singles | In the Mourning, Renegade, Grow Up, Anklebiters, Hate to See Your Heart Break, Forgiveness, 26, Pool |
| Other Songs (Song List) | Other Songs |
| Extended Plays | The Summer Tic EP, 2010 Summer Tour EP, The Only Exception EP, The Holiday Sessions |
| Boxsets | Singles Club EP |
| Related Pages | Teenagers, Airplanes, Stay the Night |