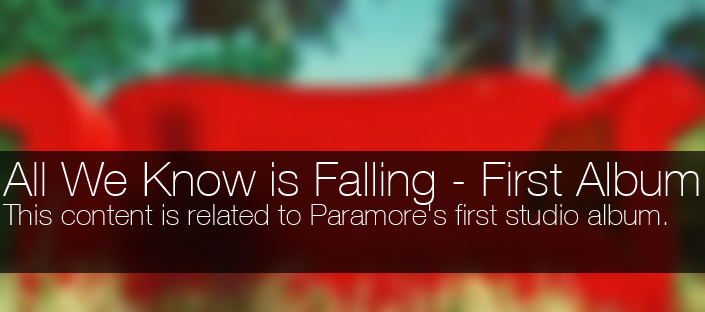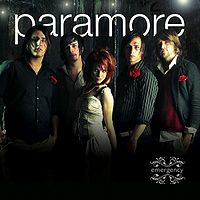 Emergency
is the second single, and third track from
Paramore
's debut album
All We Know is Falling
. It was released in the US on October 21, 2005, and the UK on August 26, 2006 on 7" vinyl, and was an HMV Exclusive Single which came with a B-side, "Oh, Star," and a free poster. The song, written by
Hayley Williams
, is about how love is taken for granted and means nothing nowadays, and that relationships are really in emergency status. It was written about a time when Hayley's parents were about to split up, and she had to watch this happen in front of her as a child with no power to do anything about it. In an interview in the February 2008 edition of
Alternative Press
she says "I remember actually walking out the door with my mom that night and standing in between my parents and screaming, 'shut up! Shut up! Shut up!'."
It was also released as a part of the "Class of '06" Kerrang! compilation CD, marking it as one of the most popular rock songs released that year.
Music Video
Edit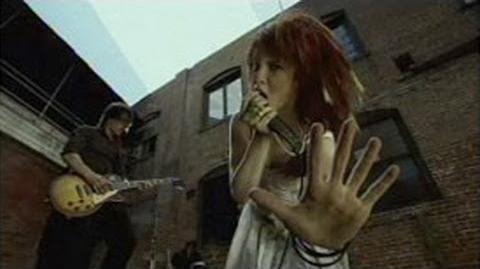 The music video starts with Hayley Williams and
Jeremy Davis
sitting in a derelict room. The other band members start to walk in with cuts and bandages all over their bodies. The director walks in, throwing Hayley some carnations, and he leads them outside. Outside we see a set with cameras and lighting, and the band gets blood make-up touch-up. The director mouths "Action!" and the band does a group performance.
The carnations worn by each band member in the music video represent "emotional baggage" being carried around, stated Williams in an interview. The video was directed by Shane Drake who also directed their "Pressure" video as well. Shane Drake directed further music videos for the band, such as "Misery Business", "Crushcrushcrush,", "Decode", and "Monster."
The dress Hayley Williams wore in the video, along with what lead guitarist Josh Farro wore in the video, is now in the Rock N' Roll Hall of Fame, in the Warped Tour exhibit.
I think we have an emergency
I think we have an emergency

If you thought I'd leave, then you were wrong
Cause I won't stop holding on

So are you listening?
So are you watching me?

If you thought I'd leave, then you were wrong
Cause I won't stop holding on.

This is an emergency
So are you listening?

And I can't pretend that I don't see this

it's really not your fault
When no one cares to talk about it
[To talk about it]

Cause I've seen love die
Way too many times
When it deserved to be alive (deserved to be alive)
I've seen you cry
Way too many times
When you deserved to be alive (alive)

So you give up every chance you get
just to feel new again
I think we have an emergency
I think we have an emergency

And you do your best to show me love,
but you don't know what love is.

So are you listening?
So are you watching me?

Well I can't pretend that I don't see this

But it's really not your fault
When no one cares to talk about it
[to talk about it?]

Cause I've seen love die
Way too many times
When it deserved to be alive (deserved to be alive)
I've seen you cry
Way too many times
When you deserved to be alive (alive)

Scars, they will not fade away.

No one cares to talk about it, can we talk about it?

Cause I've seen love die
Way too many times
When it deserved to be alive (deserved to be alive)
I've seen you cry
Way too many times
When you deserved to be alive (alive)
Paramore
Label
Fueled By Ramen
Albums
All We Know is Falling, Riot!, brand new eyes, Paramore, After Laughter
Live Albums
Live in the UK 2008, The Final Riot!
Other Albums
The B Sides
Singles

AWNIF: Pressure, Emergency, All We Know,

R: Misery Business, Hallelujah, Crushcrushcrush, That's What You Get, Decode,

BNE: Ignorance, Brick By Boring Brick, The Only Exception, Careful, Playing God,

P: Monster, Now, Still Into You, Daydreaming, Ain't It Fun

AL: Hard Times, Told You So, Fake Happy

Other Charted Songs & Singles
In the Mourning, Renegade, Grow Up, Anklebiters, Hate to See Your Heart Break, Forgiveness, 26, Pool

Other Songs (Song List)

Other Songs

Extended Plays

The Summer Tic EP, 2010 Summer Tour EP, The Only Exception EP, The Holiday Sessions

Boxsets

Singles Club EP
Related Pages
Teenagers, Airplanes, Stay the Night