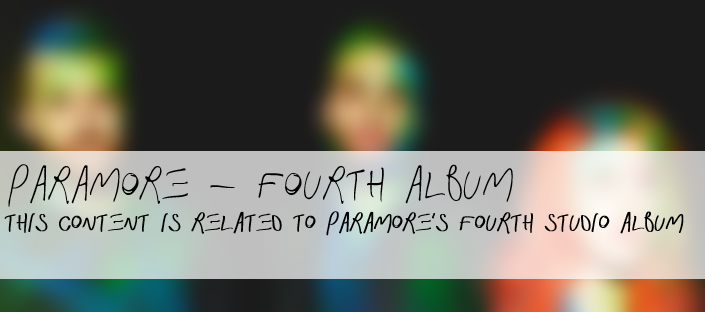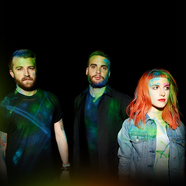 Grow Up
is a track from
Paramore
's fourth album also named "
Paramore
". The song is recognized as power pop, new wave, and electronic rock. The song has not been announced as a single or any plans of it being one, yet it has still charted in the UK on their rock chart. The song has received critical acclaim by music critics.
Chart Performance
| Chart (2013) | Peak Position |
| --- | --- |
| UK Rock | 36 |
Audio
Paramore currently does not have a music video to 'Grow Up', but the audio version is available.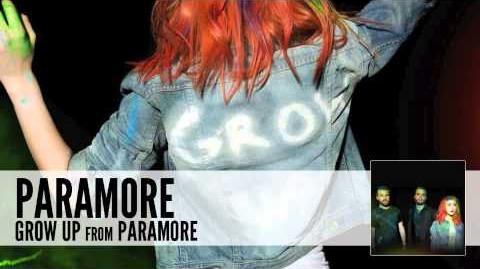 Lyrics
I told 'em all where to stick it
I left town with a dime to my name
I said, I'm done with all of my fake friends
Self-righteous pawns in a losing game

Got my band and a light that won't go out
Been burning since the day I was born
So I cried just a little then I'll dry my eyes
Cause I'm not a little girl no more

Some of us have to grow up sometimes
And so, if I have to I'm gonna leave you behind

Stood in line for so long just to picket
Something I will never understand
Aren't you tired of always being mad at the world?
Won't you just admit you don't care?

And lady, I don't want your pity
So don't feel sad for me
I got a love I would die for and a song to sing
Maybe we're both just living out our dream

And some of us have to grow up sometimes
And so, if I have to I'm gonna leave you behind

We get along for the most part
Me and reality, the light and the dark
We live alone, two different worlds
Me in a fantasy, you in your memories
But we get along

We get along
(For the most part)

Some of us have to grow up sometimes
And so, if I have to I'm gonna leave you behind
Trivia
Hayley in her 'Grow Up' jacket was featured inside the self-titled album's cover.
Hayley had worn her 'Grow Up' jacket again in September 2013.
| | Paramore |
| --- | --- |
| Label | Fueled By Ramen |
| Albums | All We Know is Falling, Riot!, brand new eyes, Paramore, After Laughter |
| Live Albums | Live in the UK 2008, The Final Riot! |
| Other Albums | The B Sides |
| Singles | |
| Other Charted Songs & Singles | In the Mourning, Renegade, Grow Up, Anklebiters, Hate to See Your Heart Break, Forgiveness, 26, Pool |
| Other Songs (Song List) | Other Songs |
| Extended Plays | The Summer Tic EP, 2010 Summer Tour EP, The Only Exception EP, The Holiday Sessions |
| Boxsets | Singles Club EP |
| Related Pages | Teenagers, Airplanes, Stay the Night |
Ad blocker interference detected!
Wikia is a free-to-use site that makes money from advertising. We have a modified experience for viewers using ad blockers

Wikia is not accessible if you've made further modifications. Remove the custom ad blocker rule(s) and the page will load as expected.