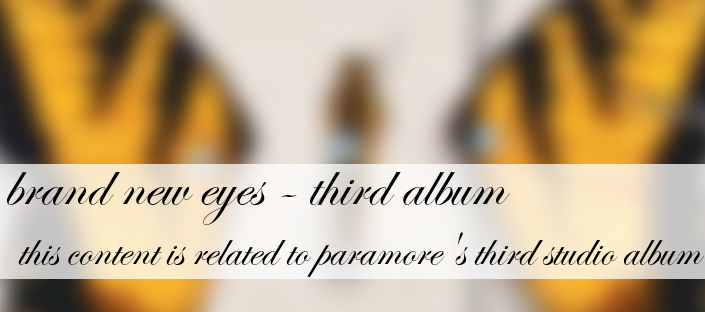 Ignorance is the first single from Paramore's third album, Brand New Eyes. It is Paramore's eighth US single and ninth UK single. The song was made available for digital download on July 7, 2009, but was shown on Paramore.net the day before. "Ignorance" is the band's highest peaking single in the UK, coming in at number #14.
Music Video
The music video was filmed on July 23, 2009 and directed by Honey. It was released to the public Thursday, August 13, 2009 at 7:00 AM on AMTV, as well as all MTV platforms, networks, and websites. The full video leaked at midnight on August 13, 2009. The video shows Williams being singled out and ignored by other members of the band. She shines a light bulb directly in thei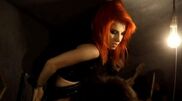 r faces, whilst describing how they ignore her and treat her like just another stranger in the lyrics. The cramped and bare setting emphasizes the inescapable, rising tensions between the band members. The video cuts between the band performing in a cramped little room, a larger performance area and a different personality of Williams being laid bare in white clothes, hair pulled back in the style of Björk's hair from her music video "Big Time Sensuality," as confirmed on her Twitter account. The video ends with the other members of the band being able to wrap the light bulb wire around Williams. There is an alternative version of the Ignorance music video that is very similar to the official video, in the same setting just with different shots of the band.
Lyrics
If I'm a bad person, you don't like me
Well, I guess I'll make my own way
It's a circle, a mean cycle
I can't excite you anymore

Where's your gavel? Your jury?
What's my offense this time?
You're not a judge but if you're gonna judge me
Well, sentence me to another life

Don't wanna hear your sad songs
I don't wanna feel your pain
When you swear it's all my fault
'Cause you know we're not the same
No, we're not the same, oh, we're not the same

Yeah, The friends who stuck together
We wrote our names in blood
But I guess you can't accept that the change is good
It's good, it's good

Well, you treat me just like another stranger
Well, it's nice to meet you, sir
I guess I'll go, I best be on my way out

You treat me just like another stranger
Well, it's nice to meet you, sir
I guess I'll go, I best be on my way out

Ignorance is your new best friend
Ignorance is your new best friend

This is the best thing that could've happened
Any longer, and I wouldn't have made it
It's not a war, no, it's not a rapture
I'm just a person, but you can't take it

The same tricks that, that once fooled me
They won't get you anywhere
I'm not the same kid from your memory
Well, now I can fend for myself

Don't wanna hear your sad songs
I don't wanna feel your pain
When you swear it's all my fault
'Cause you know we're not the same
No, we're not the same, oh, we're not the same

Yeah, we used to stick together
We wrote our names in blood
But I guess you can't accept that the change is good
It's good, it's good

Well, you treat me just like another stranger
Well, it's nice to meet you, sir
Well, I guess I'll go, I best be on my way out

You treat me just like another stranger
Well, it's nice to meet you, sir
Well, I guess I'll go, I best be on my way out

Ignorance is your new best friend
Ignorance is your new best friend
Ignorance is your new best friend
Ignorance is your new best friend

Well, you treat me just like another stranger
Well, it's nice to meet you, sir
Well, I guess I'll go, I best be on my way out

You treat me just like another stranger
Well, it's nice to meet you, sir
I guess I'll go, I best be on my way out
Charts
Chart (2009)
Peak

position

Australian ARIA Singles Chart
35
Austrian Singles Chart
17
Canadian Hot 100
96
Belgium Singles Chart
14
Japan Hot 100
10
European Hot 100
34
German Singles Chart
42
Swiss Singles Chart
82
Irish Singles Chart
49
New Zealand Singles Chart
32
UK Singles Chart
14
U.S. Billboard Hot 100
67
U.S. Billboard Alternative Songs
7
U.S. Billboard Rock Songs
20
| | Paramore |
| --- | --- |
| Label | Fueled By Ramen |
| Albums | All We Know is Falling, Riot!, brand new eyes, Paramore, After Laughter |
| Live Albums | Live in the UK 2008, The Final Riot! |
| Other Albums | The B Sides |
| Singles | |
| Other Charted Songs & Singles | In the Mourning, Renegade, Grow Up, Anklebiters, Hate to See Your Heart Break, Forgiveness, 26, Pool |
| Other Songs (Song List) | Other Songs |
| Extended Plays | The Summer Tic EP, 2010 Summer Tour EP, The Only Exception EP, The Holiday Sessions |
| Boxsets | Singles Club EP |
| Related Pages | Teenagers, Airplanes, Stay the Night |