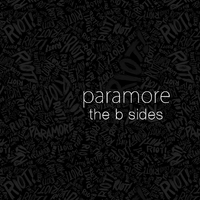 "
Love's Not A Competition (But I'm Winning)
" is a song written by ames Rix, Nicholas Hodgson, Nicholas Baines, Andrew Robert White, Charles Richard Wilson, and was covered by
Paramore
. This song is apart of a rare album entitled '
The B Sides
', which includes many unreleased songs and demos/covers of other Paramore songs. This cover does not have an official audio track, or music video to it.
As mentioned, this song currently does not have a music video or audio track to it, as the video below is an unofficial audio track of the cover. This cover was never charted, released on iTunes, or placed in one of Paramore's main albums.
All credit goes towards A-Z Lyrics for the lyrics mentioned below ()
Well I won't be the one to disappoint you, anymore
And I know I said all this so that you heard it all before
The trick is getting you to think that all this is your idea
And that it is everything you've ever wanted out of here

Love's not a competition, but I'm winning

I'm not sure what's truly altruistic anymore
'cause every good thing that I do is listed, and you're keeping score

Love's not a competition, but I'm winning
Well love's not a competition, but I'm winning
Or at least I thought I was
But there's no way of knowing
At least I thought I was
But there's no way of knowing

You know what it's like when you're new to the game
But I'm not

Well, I won't be the one to disappoint you
Well, I won't be the one to disappoint you, anymore

[Hayley (lead vocals)]
Oh I won't be the one to disappoint you, anymore
Oh I won't be the one to disappoint you, anymore
Oh I won't be the one to disappoint you, anymore

[Josh (back up vocals)]
Love's not a competition, but I'm winning
Love's not a competition, but I'm winning
| | Paramore |
| --- | --- |
| Label | Fueled By Ramen |
| Albums | All We Know is Falling, Riot!, brand new eyes, Paramore, After Laughter |
| Live Albums | Live in the UK 2008, The Final Riot! |
| Other Albums | The B Sides |
| Singles | |
| Other Charted Songs & Singles | In the Mourning, Renegade, Grow Up, Anklebiters, Hate to See Your Heart Break, Forgiveness, 26, Pool |
| Other Songs (Song List) | Other Songs |
| Extended Plays | The Summer Tic EP, 2010 Summer Tour EP, The Only Exception EP, The Holiday Sessions |
| Boxsets | Singles Club EP |
| Related Pages | Teenagers, Airplanes, Stay the Night |