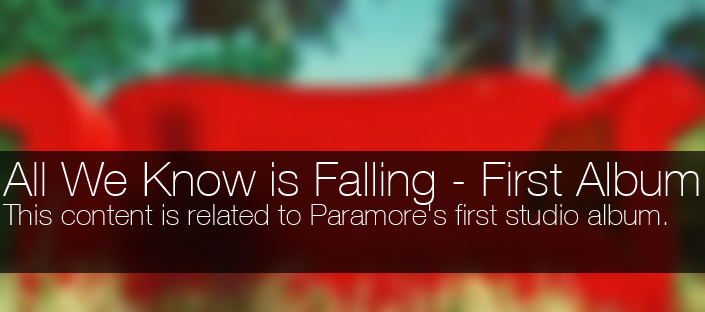 '
Never Let This Go'
is a song created with
Hayley Williams
, and played by
Paramore
. This song currently does not have an official music video or audio video to it. This song is apart of Paramore's first album (as the sixth track of),
All We Know is Falling.
As mentioned, the song does not have a music video or official audio track. The video below is an unofficial audio video of Never Let This Go. This song was never charted, but is available on iTunes... along with other songs from the same album.
All credits go to A-Z Lyrics for the lyrics given below: (http://www.azlyrics.com/lyrics/paramore/neverletthisgo.html).
Maybe if my heart stops beating
It won't hurt this much
And never will I have to answer
Again to anyone
Please don't get me wrong
Because I'll never let this go
But I can't find the words to tell you
I don't want to be alone
But now I feel like I don't know you
One day you'll get sick of
saying that everything's alright
And by then I'm sure I'll be pretending
Just like I am tonight
Please don't get me wrong
Because I'll never let this go
But I can't find the words to tell you
I don't want to be alone
But now I feel like I don't know you
Let this go, let this go
But I'll never let this go
But I can't find the words to tell you
I don't want to be alone
But now I feel like I don't know you
And I'll never let this go
But I can't find the words to tell you
That now I feel like I don't know you
| | Paramore |
| --- | --- |
| Label | Fueled By Ramen |
| Albums | All We Know is Falling, Riot!, brand new eyes, Paramore, After Laughter |
| Live Albums | Live in the UK 2008, The Final Riot! |
| Other Albums | The B Sides |
| Singles | |
| Other Charted Songs & Singles | In the Mourning, Renegade, Grow Up, Anklebiters, Hate to See Your Heart Break, Forgiveness, 26, Pool |
| Other Songs (Song List) | Other Songs |
| Extended Plays | The Summer Tic EP, 2010 Summer Tour EP, The Only Exception EP, The Holiday Sessions |
| Boxsets | Singles Club EP |
| Related Pages | Teenagers, Airplanes, Stay the Night |