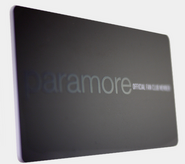 The
Paramore Fan Club
was a previous version of a fan club where exclusive media, tickets, & song content was given out. This was a tool to connect more with
Paramore
that ran for many years until 2013. The fan club was hosted on
Paramore.net
, and it took 30 American dollars to join.
Ending (2013)
Edit
With the new website layout for the new self-titled album, it was closed due to fans not being able to purchase these things & discluding other Paramore fans from this special content. The Paramore Fan Club had ended in May 15, 2013, when a post was made from Hayley, Jeremy, and Taylor. To access the exclusive content, all you need to do is become a member of Paramore.net. 
Ad blocker interference detected!
Wikia is a free-to-use site that makes money from advertising. We have a modified experience for viewers using ad blockers

Wikia is not accessible if you've made further modifications. Remove the custom ad blocker rule(s) and the page will load as expected.