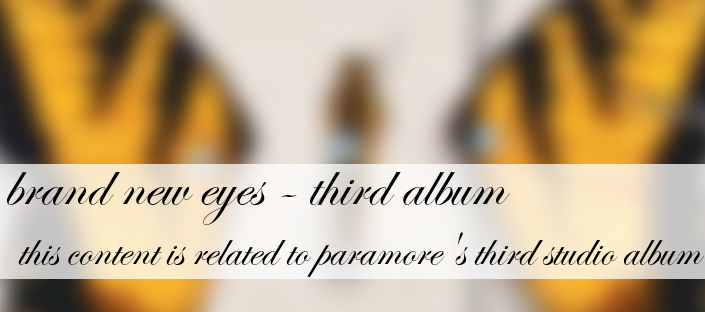 Playing God

Playing God Cover

Release Date

November 15, 2010

Recorded

2009

Songwriters

Hayley Williams,Josh Farro, Taylor York
"Playing God" was the fifth and final single from their third album, brand new eyes. It was the alternative follow up to Careful, and the pop radio follow up to The Only Exception. Although, it failed to chart on the US Pop Songs, or US Alternative songs. It also missed the Hot 100 peaking at number one on the bubbling under the Hot 100 (101 on the Hot 100). It also reached number five on UK Rock chart.
Music Video and Origins
Edit
This song was written at a time when Hayley was "very angry" and is most likely aimed at her fellow band members who had been considering departure.
The music video is the last including Josh Farro and Zac Farro, who left the band not very long afterwards. It was filmed entirely in Hayley's home in Franklin, Tennessee. It was directed by Brandon Chesbro and features Jeremy Davis 's girlfriend, past band member Hunter Lamb , new touring member Jon Howard , and Brandon Chesbro's wife. Production and cinematography was done by Aaron Schnobrich, who played Hayley's sleeping boyfriend in the video for "The Only Exception".
In the video Hayley plays as an 'housewife/hostess' figure, who has guests over and begins to remember the moment when she drugged the other four members of the band, who now sit in the basement. This video is a sequel to Ignorance in which the band members tie up Hayley.
Can't make my own decisions
Or make any with precision
Well maybe you should tie me up
So I don't go where you don't want me

You say that I've been changing
That I'm not just simply aging
Yeah how could that be logical?
Just keep on cramming ideas down my throat

You don't have to believe me
But the way I, way I see it
Next time you point a finger
I might have to bend it back
Or break it, break it off
Next time you point a finger
I'll point you to the mirror

If God's the game that you're playing
Well we must get more acquainted
Because it has to be so lonely
To be the only one who's holy

It's just my humble opinion
But it's one that I believe in
You don't deserve a point of view
If the only thing you see is you

You don't have to believe me
But the way I, way I see it
Next time you point a finger
I might have to bend it back
Or break it, break it off
Next time you point a finger
I'll point you to the mirror

This is the last second chance
(I'll point you to the mirror)
I'm half as good as it gets
(I'll point you to the mirror)
I'm on both sides of the fence
(I'll point you to the mirror)
Without a hint of regret
I'll hold you to it

I know you don't believe me
But the way I, way I see it
Next time you point a finger
I might have to bend it back
Or break it, break it off
Next time you point a finger
I'll point you to the mirror

I know you won't believe me
But the way I, way I see it
Next time you point a finger
I might have to bend it back
Or break it, break it off
Next time you point a finger
I'll point you to the mirror
| | Paramore |
| --- | --- |
| Label | Fueled By Ramen |
| Albums | All We Know is Falling, Riot!, brand new eyes, Paramore, After Laughter |
| Live Albums | Live in the UK 2008, The Final Riot! |
| Other Albums | The B Sides |
| Singles | |
| Other Charted Songs & Singles | In the Mourning, Renegade, Grow Up, Anklebiters, Hate to See Your Heart Break, Forgiveness, 26, Pool |
| Other Songs (Song List) | Other Songs |
| Extended Plays | The Summer Tic EP, 2010 Summer Tour EP, The Only Exception EP, The Holiday Sessions |
| Boxsets | Singles Club EP |
| Related Pages | Teenagers, Airplanes, Stay the Night |