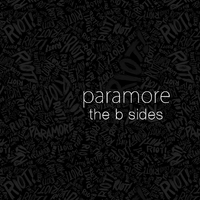 "
Stuck on You
" is a song written by Ken Andrews, Greg Edwards, and was once preformed by
Paramore
. This is a song cover by Paramore, as this song was originally from the band Faliure. This song cover is apart of a rare album entitled '
The B Sides
', which includes many unreleased songs and demos/covers of other Paramore songs. This song does not have an official audio track, or music video to it. 
As mentioned, this song cover currently does not have a music video or audio track to it, as the video below is an unofficial audio track of the song. Both the original song and the cover was never charted, released on iTunes, or placed in one of Paramore's main albums.
All credit goes towards A-Z Lyrics for the lyrics mentioned below (http://www.azlyrics.com/lyrics/paramore/stuckonyou.html)
I heard you driving in my car
Then in a frozen bar
And I claimed I didn't care for you
But your verse got trapped inside my head
Over and over again
You played yourself to death in me

I thought I'd drop you easily
But that was not to be
You burrowed like a summer tic
So you invade my sleep and confuse my dreams
Turn my nights to sleepless itch

Stuck on you 'till the end of time
I'm too tired to fight your rhyme
Stuck on you 'till the end of time
you've got me paralyzed

Holding on the telephone
I hear your midrange moan
You're everywhere inside my room
Even when I'm alone I hear your mellow drone
You're everywhere inside of me

Stuck on you 'till the end of time
I'm too tired to fight your rhyme
Stuck on you 'till the end of time
You got me trapped inside

I can't escape your incessant whine
When you beam it out all across the sky
No I can't escape
(stuck on you 'till the end of time)
your insipid rhyme
(I'm too tired to fight your rhyme)
When you shoot it deep
(stuck on you 'till the end of time)
Straight into my mind

| | Paramore |
| --- | --- |
| Label | Fueled By Ramen |
| Albums | All We Know is Falling, Riot!, brand new eyes, Paramore, After Laughter |
| Live Albums | Live in the UK 2008, The Final Riot! |
| Other Albums | The B Sides |
| Singles | |
| Other Charted Songs & Singles | In the Mourning, Renegade, Grow Up, Anklebiters, Hate to See Your Heart Break, Forgiveness, 26, Pool |
| Other Songs (Song List) | Other Songs |
| Extended Plays | The Summer Tic EP, 2010 Summer Tour EP, The Only Exception EP, The Holiday Sessions |
| Boxsets | Singles Club EP |
| Related Pages | Teenagers, Airplanes, Stay the Night |